War through the eyes of Anne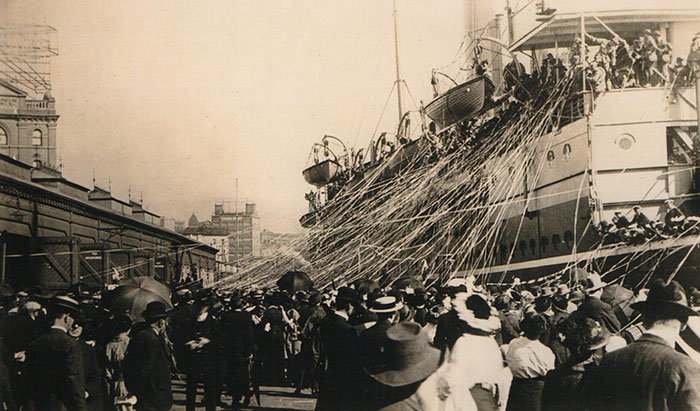 25.05.1915
On the first night, I knew not what the future held in store, when about midnight a knock came to the cabin door and the nicest message had come across the water, by wireless, with just two words, "God's blessing."
21.10.1915
It's exactly what you would imagine a field Hospital to be, rows of marquees and bell tents.  We have beds for 1040 patients but at present have 1200 in, so some of the boys are on mattresses on the ground.
We are really roughing it but most of us are as happy as can be, we feel as if we are doing what we came out to do, as long as we can benefit the boys in making them better, comfortable, and contented we do not mind.  Our chief luxury is exercise and fresh air, we get those in abundance, and it gives one a keen appetite for our tinned provisions on enameled plates.
23.10.1915 (approx)
I have an inward feeling that we will not be able to weather it here, for various reasons.  One is that there's a rumour now to go on half rations, firewood is short, though it's only used for cooking purposes.  Then with the gales predicted I wouldn't be surprised to hear of shipping being suspended.  We think of ourselves, but there are the boys just across in the same latitude on the Peninsular who won't have the same shelter and comforts as us.  We'll pray that the war will be over by then.
29.10.1915
This morning when I went on duty I was so sorry to find that Captain Lloyd had come in as a patient, I'm very much afraid it's Typhoid.  Poor boy he's finding it hard to submit to the inevitable, he was so very keen on keeping well.  In a short time he was being promoted to Major, fancy, and only twenty four.
'Twas only three days ago in the early morning that we saw the 1st Brigade starting on its way back again to Anzac.  We all felt terribly sad about it for we knew how they all hated the thought of going back to their memories there.  The reinforcements for the 4th Brigade are quarantined on account of mumps and measles.  I wonder why this island is so unhealthy, though I don't suppose it's the island so much as the flies and the want of suitable food.
08.11.1915  (approx)
There is nothing I can think of more to gladden a mother's heart than a little snapshot of her boy, already I have been able to give our boys in B2 ward one each to send home for Christmas.  They were delighted too.  I'm nearly at a standstill now, but am hoping Mrs Fiaschi will send some film from England.  Why is Australia so very far away?
10.11.1915
Of course it's only natural that we would prefer for our health's sake to have nourishing foods.  I do have them though in my dreams at night.  I always visit some fruit garden and enjoy the luscious fruit, and pick the lovliest flowers, and then little children visit me too, please don't smile for tis true.  It puts me in mind of these words – I slept and dreamt that life was beauty.  I woke and found that life was duty.
12.11.1915
We learnt later that Lord Kitchener inspect the men in the camps across the bay.  He gave them a personal message from the King.  How the King was very proud of them.  Then afterwards to the Officers, told them that our boys were the bravest in the world.
06.12.1915
We all suffered with the cold terribly and with all our warm clothing we couldn't get warm day or night.  Personally I shivered for three nights without sleep and the chilblains, agony.  My two small toes were frostbitten.  Then in the day time most of us just hobbled about.  I heard one boy say as he saw me "she won't stick the winter through".  He exactly expressed my feelings.
With wind travelling at the rate of 100 miles an hour, and rain, sleet and snow, so pitifully hopeless.  The wards inside both night and day are dark.  The patient's cold, and I would defy anyone to call the outlook bright.
16.12.1915
My two nephews and two of their friends came along to see me tonight.  They have just arrived from the Peninsula.  We had a few empty beds, so I tucked them up in them for the night.  My heart goes up in gratitude to think I have them under my wing for a few hours, instead of the uncertainty of knowing what might be happening to them.
17.12.1915
Such a spirit of unrest everywhere.  The troops are arriving here as fast, and as crowded as the boats can bring them from Anzac and Suvla Bay.  They say the evacuation will be completed by Sunday night, isn't it simply terrible?  Tonight between 9 and 10pm the bombardment was very distinct.  One would think it was only a mile away instead of forty.  The hospital is being kept as empty as possible to be prepared for any emergency.
"Don't you realize that we're likely to be prisoners of war at any minute!  I'm going to prepare to flit.  Tis hard to take that view of things with so many soldiers and battleships to protect us.  However, to be forewarned is to be forearmed, and tomorrow morning will see me sorting my treasures.  Oh dear the guns again, I must go and do something, it makes one cold all over.
27.12.1915
First was the safe arrival of the final retreating party from the evacuation on Monday morning the 19th, and wasn't it lovely with only three casualties, when we were prepared for a full hospital.
The stories they tell are very interesting, how when they were far at sea they could see the Turks bombarding and shelling at the empty trenches.  Then in the morning they found one trench empty, then another, and another, and so on until they reached the beach.  Then the grand finale, our battleship got to work on them Mafeesh Turks (in Arabic) "all finished Turks".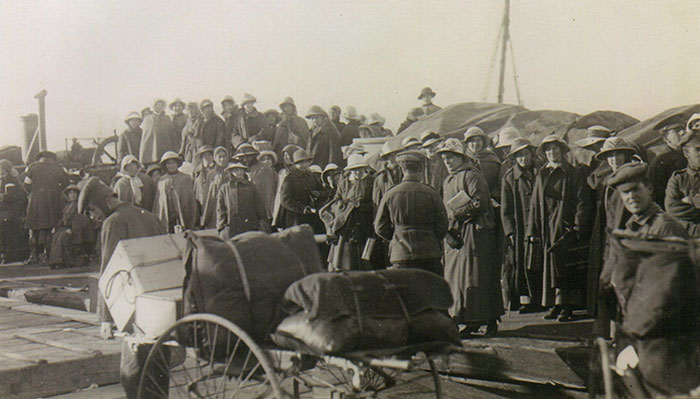 26.03.1916
The hospital, it was formerly the old Abbassia Barracks.  It is a few minutes' walk from the home, and when it is all finally renovated (excepting for the locality) it will be a suitable and beautiful hospital, the largest in Egypt.  We will be able to take in 1500 patients.
06.04.1916
It really looks as if we might expect another move shortly, I wonder where.  We would if ever that the war was over, and it was to Australia.  The boys call it God's own country, and when we were out driving to see the Virgins Tree at Matarieh, Sister Hoadley remarked "the more one goes about, the more one sees, all goes to point to the one end, and that is to love Australia more and more".  There's no place like home, and we know we shall be welcomed.
10.04.1916
I am still on night duty and as the inoculation effects have passed off I am feeling happier.  I am sorry to say that two cases of small pox have broken out and the whole of H block is quarantined.  It is a shame, as if the boys haven't got enough to put up with.  There's no doubt about Egypt being unhealthy, and another terrifying disease is Bilharziasis which is caused by bathing or paddling in the canals of the Nile.  If you get it, it is almost certain death, and unless one knows about it you can get it so innocently, but nearly all are warned.
21.04.1916
Five new patients tonight and one very very sick, he has a terrible cough, a bad headache, and backache, a high temperature, and a faint rash all over resembling sand fly bites, only they are not irritable.  He had such a bad night, and when daylight comes I see the rash is very much pronounced, especially on the palms of his hands and the soles of his feet.  My suspicions are roused now, and they prove all too true, small pox our third case from hospital, but this is one of our own boys of the 3rd.
Private Hanke a South Australian, he has been working in the Sergeants mess.  All cases of smallpox as soon as diagnosed are sent away to an Egyptian Hospital and nursed entirely by Egyptian men.  I believe tis a law of the land.  Now as the other two boys had died the thought crossed our minds, did they have the best of attention, and as we sisters have come out to give of their best, some are anxious and volunteered to go and nurse Hanke.
25.04.1916              The First Anzac Day
There was a memorial service at 9am at the Anzac Hostel in Cairo.  After the service there was a procession to the Cairo cemetery and the flowers were taken and placed on the soldier's graves.  I glanced up and saw one young laddie quite overcome in the gallery, but sad as it all was, one came away with the feeling of being drawn much nearer to those who gave their lives twelve months ago, that they were richer by far, and that their deeds are a lesson for all time.
03.09.1916
One of the boys told me that at one of the Tommy camps in the desert, the Tommy's disliked their quarter master sergeant immensely, and one day one of them threw a tin of bully beef at him and it killed him.  I said "whatever did they do to them?"  The Australians were blamed.  Their officers said such a thing wouldn't have entered their heads, the Tommys, if the thought hadn't been put there by our boys.
06.09.1916
My two boys quite opened out in the conversation coming home, it is seldom you can get them to speak of their experiences.  Some of them are so pathetic, that they do their best so they can forget them.  I won't repeat it all to you, but it would help a Mother's heart to know that if her boy is gone that tis she or his dearest to him are his last thoughts.
Once he came upon an Englishman who had been dead for about three days and had died a lonely death, but he had photos all around him as if he had looked at them one by one until the end.
Trooper Sweeney gathered them up and sent them to his people.  We just love the way they do things for one another.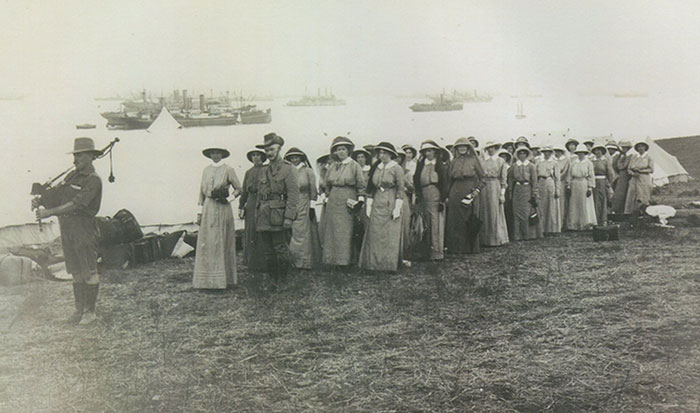 21.10.1916
This morning we had to go and give our vote for Conscription or against it, and do you know we are the first women in England to vote on a National question?
23.01.1917
The rumours have started again, and the latest one is that we are going to France.  If we are needed more there, well that is what we are here for, but I have seen enough of the effects of the war here without getting any nearer.  Naturally one longs for it all to come to an end, and I'm sure no one more so that you in Australia who are so far away.
07.02.1917
Yesterday was a great day for five of our Sisters, 'twas an investiture at Buckingham Palace and they were decorated by the King.
When my turn came I rallied my forces, walked up the room to the chandelier in the centre where stood the Lord High Chamberlain, who stood a few paces to the right of the King.  Then I turned towards the King, curtsied, took two paces forward as one walking in a dream.
05.07.1917             3rd Australian Hospital, France
This one may be disappointing, and if it is please blame the censor, for he is stricter than ever in France and almost paralysis for the writer.
I would refrain from telling anything if I thought I should add one iota of pain to any who might read this letter, or convey to you the depression I feel about things.  You see in France we see the acutest work, and the havoc the war plays on our precarious human lives.
It's very sad to see, and while we are doing our level best to restore life.  There in the distance (and especially at night) is the continual boom, boom, booming from the great guns which bring more suffering and sadness.
I've given over thinking now, and just do what each day might bring forth.  The world just seems topsy turvey, I dream of the peaceful lives we lived before the war and wonder if Australia is the same peaceful land.
The days were gone before you knew it, and you felt you hadn't accomplished anything, but this laddie in the corner I thought he shall have some special care, and I told him he would be mine until his mother came.  He gave me the loveliest smile, but next morning his bed was empty, just another one of many there that had made the supreme sacrifice.
07.07.1917
The rumoured air raid proved a fact for at 2.45 this a.m. Fritz paid us a visit.  'Twas so unexpected and sudden, I was sound asleep and awakened to the noise of what seemed to me to be the engine of a train directly overhead then immediately followed a great crash, another, and another, and before you could say Jack Robinson our anti air guns opened out.  It was very exciting.  I think all the Sisters hopped out to see what was going on but myself, and I confess I had a most tremulous quarter of an hour on my own.
08.07.1917
The following ladies will proceed to No. 38th Stationery Hospital, Calais.  Sisters Wakley, Dora Smith, Mary McIlroy and myself.
03.08.1917
We had two excitements in the way of visits from Fritz since we have been here.  Mary and I were sound asleep in our little tent the first time when we were suddenly awakened at 12:45am to the sound of guns and lights flashing above us.
What I dislike most is the continuous bombardments, they go on all night sometimes without ceasing, and if we heard the guns at Abbeville they are intensified here.
28.08.1917
Our tent is on the point of giving way and Mary goes out to try and secure the ropes.  Later the tents blew down flat and as I was sheltering in the mess marquee, Colonel came along and says we are to move into the huts.
There are things flying in all directions and there's crash, crash, chrashes and soon all the out houses are laying flat on the ground, then sheets of iron are peeling off our new Nissen huts and blowing about like paper in the wind.
An orderly when carrying over fourteen dinners, meets a sudden gust and over he goes with the dinners into the mud, then a sheet of iron comes and loosens his front teeth.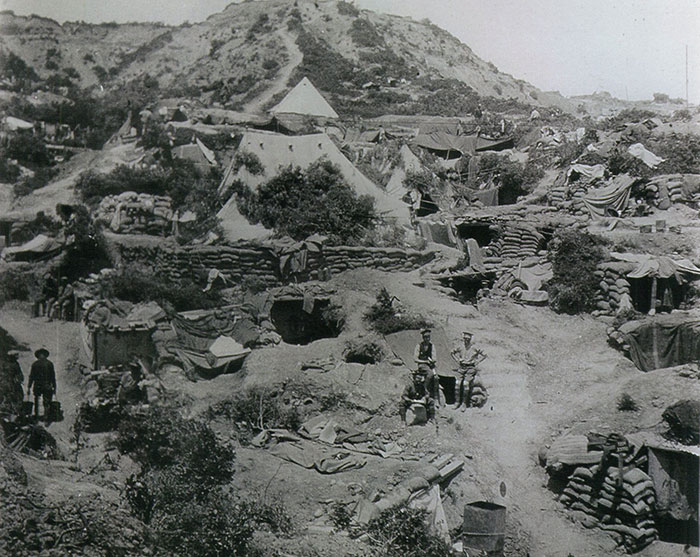 03.10.1917
At 10pm the siren gives warning, then for two hours Fritz is carrying on with his frightfulness up in the sky, doing the work of the Devil.  There is no other word for it.  The barrage of our own anti air craft's too is tremendous.
04.10.1917
Another visit from Fritz last night and twenty five of them up there gave us five solid hours of it.
Most of the folk in Calais sought shelter in cellars, but there was absolutely none for us.  The patients this morning say they would rather be up in the front lines, and under artillery barrage where they would have some protection in their dug outs.
After it had gone on for three hours, Matron comes along and shows us a shell that had come through the roof and floor of the board room and into the ground underneath.
Poor little Dora was so frightened, I can see her now crouching down by the side of Mary's bed, inwardly praying, says she'll "never, never miss going to church on a Sunday again."  Another sister prays in a loud whisper.  If I write like this you may think we are a hysterical crowd, when truly we are not.
05.10.1917
We are breathlessly waiting for him to pass on from over our heads, when bang went the first gun and immediately followed the most terrific crashes and explosions.  The earth shook so; all our things came rattling down from the walls.  We were tout le suite under the bed.  I thought our numbers were up, and that a few seconds more and we would be smashed into eternity.
But the worst casualties of all fell on German prisoners; they were being marched along a road, when down swooped their own aeroplane (who took them to be allies of course), dropped bombs, and turned their machine guns on to them.  Thirty seven were killed, and forty three wounded (most of the latter have since died).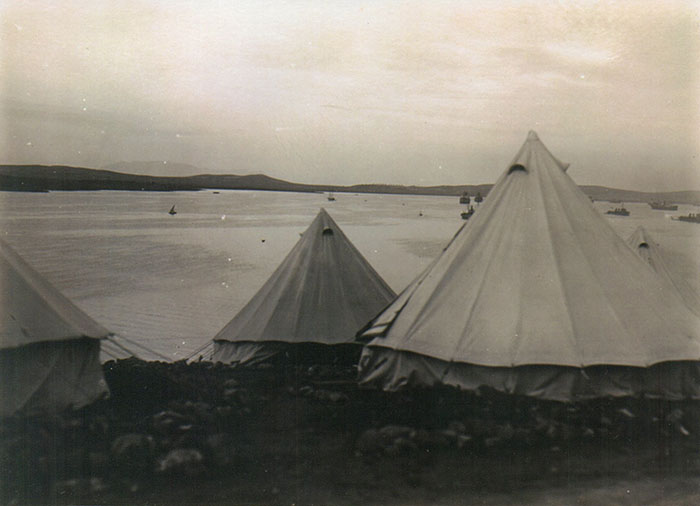 06.10.17
If you imagine we are on the qui vie by now, you imagine right.  Fritz has promised us nine nights of it during this harvest moon.
Fritz is somewhere, but our planes are up there too.  At midnight he is discovered in a streak of moonlight, but our scares him away with a few shots.
07.10.1917
As soon as I know Fritz is above and the guns start, I seem to lose nearly all my strength.  A band tightens around my head, my senses are annulled, whether they become paralysed from the noise, terrifying fear, or maybe I am not brave.
31.10.1917
Such excitement, we are going to evacuate, pack up and be prepared to move at 24hrs notice.  The unit is going to stay.  How glad we all are, anywhere away from Calais.
07.11.1917
On reaching London we found that Ireland was in a state of grave unrest, and for anyone to appear in uniform there was like putting a red rag to a bull.
22.11.1917
The drive out from Amiens to the CCS I will never forget, 'twas my first introduction to the real waste, devastation and desolation.
Not a tree left from the once beautiful avenues, only the shattered stumps remain.  The nearer one gets to the war zone all lights are put out.
Those little white crosses on the roadside to the right and left as far as you can see, and was 15 miles through this sacred ground.  I became silent, my heart ached, for this is the vast valley Somme also where lies so many of our own heroes who have fought and fallen.  Some things are too sacred for words.
31.12.1917
Goodbye to 1917.  Awakened suddenly at the early hour of 2.30am to the sound of close shelling, and quickly detected a faint, sweetish scent like pineapple, when immediately followed a loud knocking at the door and Owen saying "Sister Donnell they're sending over gas shells, have your respirator ready".  I jumped up tout le suite, as did most of us, and got dressed, shivered and shook, and coughed, and it seemed as if I never should manipulate that respirator.  The Sister next door calls out to see if I am choking.  10pm, will this restless life never end.  As I write the shelling is going on again heavy too, I am not undressing.  We finish 1917.
01.01.1918
Time says, a new year.  "Twas heralded in for us by the sounds of shells from the enemy, and our guns retaliating.
06.01.1918
Those wretched visits from Fritz when he knocks overhead with his z.z.z.z., and then leaves his cards and iron rations, as the boys say.  At 4am my trained ear detected the z.z.z.z..  I feel limp, but went and stood by a very sick boy who was awake, and waited only a few seconds, and those terrific crashes.
The blighters returned again at 6am.  It really is a great nerve test, a terrible test.
11.01.1918
Work doesn't slacken one bit.  The poor boys with trench feet are coming in by the hundreds.  This weather is terribly severe.  We are told of an officer in doing his outpost rounds passed one man on duty and said "all right" reply "all right sir", then he went on to the next,  but something told him to go back and look at the man again.  'Twas only a matter of a few minutes, but the man was standing silent and frozen, he had given his life.
01.05.1918
CCS Hospitals are the nearest to the front lines.  The wounded and sick first pass through the field dressing stations, and then usually come by ambulance to the CCS, and then close to the CCS is a railhead, and from there the hospital trains take the patients down to the various bases.  It is usual for two CCSs to be close together and work in conjunction with each other.  Our next door neighbor was 2 CCS, and we received the patients alternately.  Sometimes two, sometimes four or twelve, just according to how fast we were admitting for some days after the so called Cambrai victory.
08.06.1918
I only know what Sister Dawson told me.  The other sisters just escaped with their lives.  Her description of what the tumult was like, even as she left, was like going through fires of hell.  The noise was terrific, the air black and thick with dust, whilst the earth never ceased quivering from the shells that were coming thick and fast from behind.  She will never forget the sad sight of the refugees as they hurried along the by roads.  I did hear, but I cannot vouch for the truth of it, that all the CCSs belonging to the 3rd Army were lost, and the booty the Germans have captured must be enormous.
01.09.1918         (night duty) No. 1 AAH
God gives his angels charge of those who sleep, but he himself watches with those who wake.  I have only three more nights.
03.09.1918 (approx)
My thoughts fly back to France and I see those little white crosses, and think of those who have given their lives and so many are only here with us for a while until they are fit, and then go back to what?
I think of a young friend of mine, an only son, who was standing in the centre of a group of about a dozen of his comrades.  A mills bomb came and landed on to his shoulder, for one brief second he leant his head down and held it there.  He had given his life to save his mates around him, could anything be grander than that?
11.11.1918
"The Kaiser has chucked his job and the war's over", so called out one of the boys from the door of the ward as he waved the early Daily Mail in his hand this morning.
Yes, the Armistice is signed.  The guns went off about midday.  Just to think of it, the War over, the news seems too much for words.
The Colonel went into London to hear the King speak to the people from Buckingham Palace.
13.11.1918
Sister King and I with two of my one-eyed boys went into London to join in the festivities and to go to the Queen's Hall, in the evening where Australia was celebrating the Armistice.
19.01.1919
I felt the engines going at 7am so jumped up to have a farewell look at England.  It is winter now and cold and dreary, but it's the same Devonshire as we welcomed so three and a half years ago.
24.01.1919
The most interesting thing on board is the little dog, whether it will live or die.  Last night I was talking to some of the boys about it and I gathered this.  That if the doggie goes overboard, the OC will soon follow after it. The boys keep a guard of twelve to fourteen over it night and day, and I can see they are determined to take it to Australia.
28.02.1919
I cannot describe my home coming words fail me when I try, for it has been the most impressionable day I have ever lived, and mixed with sadness and gladness too full for words.
P.S.
(Overheard on the Melbourne Wharf)  "Mother see that little doggie running about, I saw it jump out of one of the Soldier's kit bags".
If you recognise anyone in these photographs, please don't hesitate to contact us.